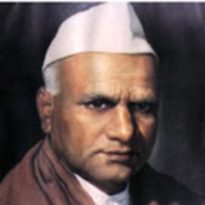 Dr. Bapuji Salunkhe, Founder
Dr. Govindrao Dnyanojirao alias Bapuji Salunkhe, a Sanskrit scholar, great educationist, social reformer and a visionary laid the foundation of Shri swami Vivekanand Shikshan Sanatha in the month of June 1954. He undertook his noble mission to spread education amongst the masses from rural and semi urban populations from the state of Maharashtra and a part of Karnataka. In the first decade of post independence era most of the region from rural and semi urban part of western Maharashtra and Marathwada was backward as far as literacy was concerned.
Illiteracy and so poverty was one of the main obstacle in the way of socioeconomic development of society at large in this region. Shahu Maharaj from Kolhapur initiated and strengthened spread of education in Kolhapur by starting schools and hostels for the students of different communities. DR. Bapuji salunkhe selected Kolhapur as the head quarter for the Sanstha as the progressive movement for social transformation began there in 1902. He selected the name of Shri Swami Vivekananda to project appropriate all time ideal before the youth.
Since it's inception in 1954, today the Sanstha has made its resence felt on the educational map of India not only quantitatively but also qualitatively. It is a multidimentional educational institution spread over 12 districts of Maharashtra and Karnataka with its network of 330 branches. There are 23 multi faculty senior colleges imparting higher education in the faculties of Arts , Commerce, Science, Law and Education,66 Junior Colleges, 8 D.Ed. Colleges,170 Secondary Schools, 19 Hostels ,2 Competitive examination Centers, 3 English medium Schools, 14 Primary schools and 25 other branches. The sanstha is catering to the academic needs of 179720 students with 7690 employees including faculty members and nonteaching staff. The overall administration is monitored by the central office at Kolhapur under the executive authority of the Secretary.
The institution is operating 23 colleges affiliated to the Universities of Mumbai,Pune, Shivaji, and Dr. Babasaheb Ambedkar Marathwada. Shri swami Vivekananda Shikshan Sanstha works with a motto "Spread of Education for Dnyan, Viddnyan and Susanskar",which are the supreme values for ever.
MANAGEMENT COMMITTEE YEAR 2015 to 2018
Hon. Chandrakant (Dada) Bacchu Patil
President
759/1-3 Chh.Sambhaji Park, Sambhaji Nagar Kolhapur

Hon. Raghunath Manohar Shete
Vice-President
A/P- Malharpeth, Tal-Patan, Dist- Satara

Hon.Sampatrao Ramchandra Jedhe
Vice-President
A/P- Ambawade, Tal- Bhor, Dist- Pune

Principal Abhaykumar Govindrao Salunkhe
Chairman
2130 E Ward, Tarabai Park, Kolhapur

Hon.Dr.Pundlik Namdeo Kalbhor
Chairman
60, Ashok Hsg.Soc., Ashok Nagar Rangehill, Pune

Principal Shubhangi Muralidhar Gawade
Secretary
2130 E Ward, Tarabai Park, Kolhapur.

Principal Shri.Pundlik Shamrao Chavan
Joint Secretary – Administration
2130 E Ward, Tarabai Park, Kolhapur.

Principal Dr. Rajendra Shejval
Joint Secretary – Finance
Principal, L.B.S. College,Satara.

Hon.Ravindra Ramchandra Chavan
Member
Nr.Hotel Monark, Powai Naka, Satara.
Hon.Avinash Dinkar Patil
Member
A/P-Chinchani Tasgaon, Dist.Sangli

Hon.Sampat Bandu More
Member
Datta Appt.293,Guruwar Peth,Satara
Hon.Sadashiv Krishna Kumbhar
Member
A/P-Kolewadi,Tal-Karad, Dist-Satara.

Principal.Dr. Yuvraj Ambadas Bhosale
Member
Principal. R.P. College,Osmanabad

Hon.Sitaram Maharu Gavali
Member
HM,P.K.M. High School, Lonikalbhor,Pune .
Hon.Shriram Sharadchandra Salunkhe
Member
AA Desai HS Hatkhamba, Dist- Ratnagiri

Hon.Avinash Namdev Kadam
Member
Lab.Asst. LBS College, Satara.

Hon.Krishna Ganpati Bisale
Member
HM Guru Basveshwar HS,Billur Dist-Sangli.